T

he Moving Industry's
Top-Rated Digital Marketing Agency
The Moving Industry's
Top-Rated Digital Marketing Agency

Moving Company Marketing Lead Generator
We provide Lead Generating Digital Marketing Services exclusively to Moving Companies. Our Lead Generator program is a full-featured complement of diverse digital marketing channels that combine to drive leads to your moving company marketing. We cover all bases from Web Design to Local SEO and PPC Management to Review Generation. People are the lifeblood of any successful moving company marketing strategy, and we are dedicated to providing our clients with the tools they need to reach their target audiences, from creating engaging web designs to optimizing their local SEO and PPC campaigns to generating positive reviews that will help them stand out from the competition. As an example, our customer-centric approach has helped a number of businesses enhance their online presence and reputation.

Web Design
Custom-Built moving service websites that are built to convert. The goal of our websites is to drive phone calls and form submissions to your company.

Local SEO
Optimal website content and on-page SEO elements so that you will be found for high converting GEO specific Moving Service search terms. 

PPC Management
Save money with a Google Ads campaign professionally managed by Google Adwords Certified experts. Conversion optimization is our specialty.

Review Generation
Review generation is a must in this day and age. Our Review Generation software is the most efficient way to drive reputation enhancing positive reviews for your company.
Custom-Built Moving Service Marketing Website With Local SEO Elements and Content
We build custom moving service websites that convert. Our objective is to drive leads that get new customers fo your business. Our sites utilize a user experience geared towards driving phone calls and form submissions. We also include the on-page local SEO elements and content that will get you found for GEO-specific searches in your service area for the moving services you offer. A high-converting website is the centerpiece of your moving company marketing. By utilizing search engine optimization (SEO) techniques, such as keyword research, content optimization, and link building, you can ensure that your moving company website is easily found by potential customers when they search online, thus increasing your visibility and helping to generate more leads and conversions. People are increasingly turning to online search engines to find the products and services they need, and by optimizing your website for relevant keywords, you can ensure that your business is visible to these potential customers, helping to generate more leads and conversions.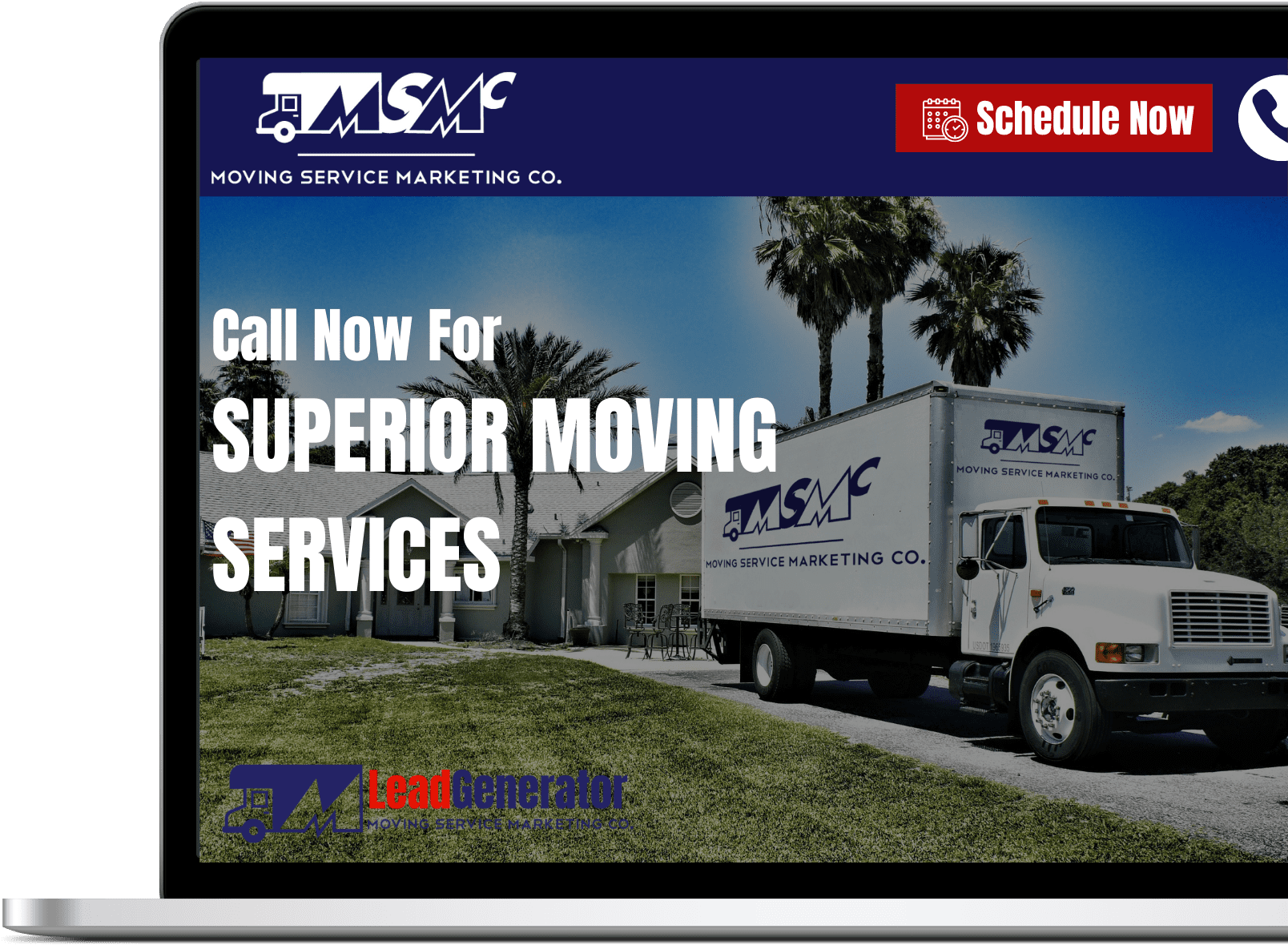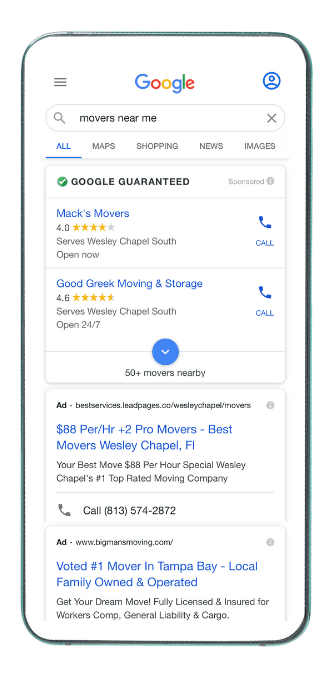 Expert Pay Per Click Management To Drive Moving Leads
As Google continues to monetize the first page of its search result pages, your PPC program must be precisely dialed in. This is especially the case regarding searches that originate on a cell phone. At Moving Service Marketing Co. we are Google Certified Pay Per Click experts with a proven track record of driving conversions at a rate well above industry standards through PPC. Contact us today so that we can show you how to improve your current paid advertising campaigns significantly. Using the right keywords in your paid advertising campaigns is key to achieving success, as they can help to target the right audience, increase click-through rates, and maximize conversions; therefore, it is essential to ensure that you are utilizing the most effective keywords in your campaigns to maximize your return on investment.
Get Consistent Reviews With Review Generator
When it comes to marketing your moving company, Google reviews influence how customers make decisions. Online Reviews matter. You know that consumers are checking your review ratings, primarily Google My Business Reviews, and comparing them to your competitors before calling you. Review generation can be difficult. When and how do you ask your customers for a review? Our Review Generator software takes the guesswork out of this process and provides you with an efficient and easy method for your movers and office staff to request reviews.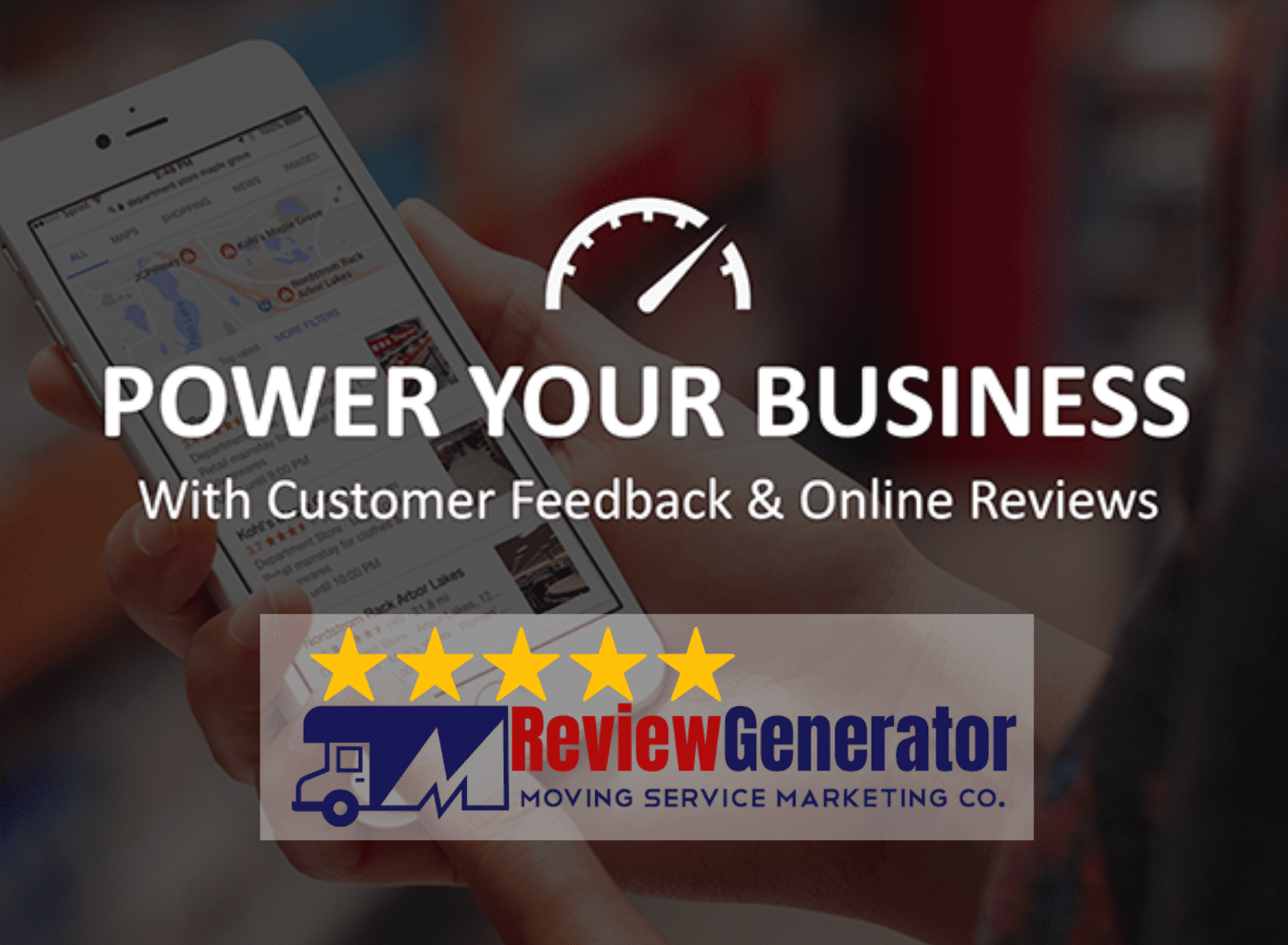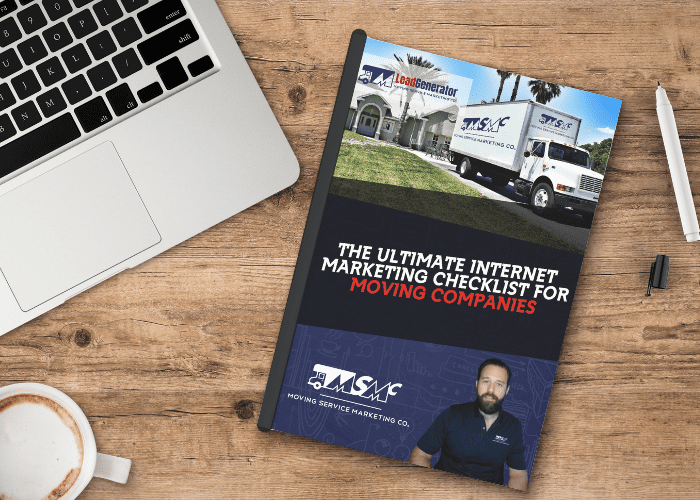 The Ultimate Moving Service Online Marketing Checklist 
-FREE Checklist Reveals…………
The 10 Key Elements to Drive More Leads, Calls & Sales​With Your Online Marketing Campaign.

The Elements That Work Together to Increase Leads 3-10X!

Includes FREE Cheat Sheet, Template So You Can Get More Leads at an Affordable Price!

Common Moving Service Marketing Questions Explained
Are there any low cost marketing strategies I can use to promote my business?
Yes, there are plenty of low-cost, quality marketing strategies that you can use to promote your moving services business! In today's internet-saturated environment, where customers often research extensively online before making any decision, one cannot underestimate the power of online marketing.
Word-of-mouth advertising is one of the most effective and lowest-cost strategies for getting your movers curbside, whether they be local movers or long distance movers. This is an affordable way to build your brand. Ask existing customers if they can refer your various moving services to friends and family. Offer incentives such as discounts or gift cards when someone decides to use your services based on a referral. But remember, in our digital society, word-of-mouth has also transitioned online. Encourage happy customers to leave reviews on your page and highlight these on your website and social media pages.
Another affordable, convenient option is to design flyers or direct mail pieces and distribute them in your community. This offline campaign technique works exceptionally well for van lines and local moving businesses without a large marketing budget. Consider creating partnerships with local businesses such as real estate agents, house staging companies, interior designers, etc. By working together, both parties can benefit.
Finally, an often overlooked low-cost strategy is email marketing. Create an email campaign that offers quality tips and helpful advice for someone looking into relocation options. This can be a very effective way to create brand awareness and generate leads for packing, unpacking, and furniture storage services at an affordable price! This will also help drive traffic to your website, converting visitors into potential customers.
Keeping all of this in mind, there is tremendous value in representing your moving services online with a professional website. Our website design ensures a top-quality user experience, attracting potential customers to explore the services offered by your moving company and ultimately prompting them to take action and make inquiries.
How can I use social media to market my moving business effectively?
Social media is a powerful marketing tool that can help businesses grow. To effectively market a moving business through social media, identify the channels most likely to connect with potential customers. LinkedIn, for instance, may seem like something other than a traditional avenue for moving companies. Still, it's one where you can connect with other industry professionals, leading to referrals and partnerships. Remember to be clear about your price range to give customers an idea of your services' affordability.
When creating content for these platforms, think about the type of posts that will be most attractive to current and prospective customers. Share helpful tips on safely moving heavy items or promote special offers for your services. Aim to add value to your audience while subtly promoting your services, thus creating an engaging online presence.
Moreover, nurturing relationships with local organizations can bring in new customers and create more visibility for packing, unpacking, and furniture storage services.
Finally, don't forget to utilize tools like paid advertising and influencer collaborations to spread the word about your business further. These strategies can help generate more online traffic and attract more visitors to your website.
The quality of your service can lead to increased customer satisfaction and trust in your brand as they experience seamless planning and execution of their relocation needs.
Moving a home or office involves coordinating various aspects, such as packing, loading, navigating through traffic, unloading, and setting up at the new location. Quality movers prioritize timely delivery and smooth execution of each step, ultimately leading to satisfied clients who feel they have gotten good value for the price.
When seeking a long distance or local mover for your relocation, obtaining multiple quotes from different van lines is crucial to ensure you're getting the best value for your money. Remember the importance of affordable pricing and convenient service in your search. In our modern world, reliable, stress-free comparisons of services and prices across numerous moving services companies are achievable through search engines.These digital platforms allow you to input your specific keywords related to location and unique needs when searching for the perfect mover. Whether seeking cross country movers, full service movers, those providing packing services, furniture movers, piano movers, or office movers, this approach facilitates a more informed decision. Enhancing your chances of success in finding the right company amidst the competition becomes easier.
How can I effectively target potential customers for my moving business?
A comprehensive digital marketing strategy is the most effective way to get things moving and target potential customers for your business. This should include a combination of both online and offline marketing efforts – ranging from promoting full service movers to packing services to furniture or piano movers. Including web development, search engine optimization (SEO) practices, content, and social media marketing, pay-per-click advertising including google ads, email campaigns, direct mail, radio and television commercials, and print ads. The success of your outreach is hinged on how well you manage to make your office movers or cross country movers company website reliable, easy to navigate, informative and well-optimized for search engines. Ensure your company's logo is prominently displayed to establish brand recognition.
In today's digital landscape, investing in your website is imperative as it's typically the first place potential customers will go to research your service offerings. A well-designed website that includes your service area and competitor's analysis can greatly enhance your customer service experience, from office to piano movers to piano movers. Ensure it's user-friendly and hosts informative content highlighting your business's benefits. With the aid of keywords and SEO best practices, you can optimize your website for high visibility on search engines. Websites with engaging content and image-rich illustrations of your cross-country or furniture movers company's story and values generate a stress-free exploration experience for your visitors and potential clients.
Building relationships by reaching out directly to potential customers is a must for success. An email list is developed by collecting contact information from website visitors and past customers to connect with those seeking packing services, office movers, or piano movers. Email campaigns and direct mail pieces, coupled with offline tactics like radio and television commercials or print ads, allow you to reach even more people who may not typically use the internet in their search for movers.
Thinking strategically about leveraging these tactics for a range of services, from cross-country movers to full-service movers, to maximize your return on investment is vital. It is the recipe for success that improves your company's visibility and stimulates growth in your moving business.
The All In One Digital Marketing Solution For Your Moving Company
Advertising is an essential part of any successful moving company's digital marketing strategy, and by utilizing a comprehensive solution that includes everything from SEO, PPC, and social media campaigns to email marketing, content creation, and more, you can maximize your reach and generate more leads today. By leveraging online, offline, and print marketing tactics such as direct mail, radio and TV advertising, and events, you can create an integrated marketing strategy that will help you reach a wider audience and generate more leads.
By creating a blog that includes informative video content such as video stories, tutorials, and ads, you can provide your customers with an engaging and interactive experience, helping to keep them informed and up-to-date on your products and services. Through these effective customer service strategies, businesses can help to increase their sales by keeping them informed and up-to-date on their products and services, thus creating a more successful sales process.
By keeping their customers informed and up-to-date on their products and services, companies can move their sales forward by creating a more successful sales process. With a more successful sales process, companies can move their sales forward by ensuring that their sales team is up-to-date on their products and services and by providing them with the necessary resources and items to market and sell their products effectively. When customers have the necessary resources and items to market and sell their services effectively, businesses can increase their chances of a successful conversion, which turns potential customers into paying customers.
Moving Industry Facts
Moving companies typically use a variety of marketing tactics to attract new customers, including online advertising, direct mail campaigns, and referrals.

Moving companies often offer discounts and special offers to attract new customers.

Moving companies typically use search engine optimization (SEO) techniques to increase their visibility in online search results.

Social media marketing is also a popular tool for moving companies, allowing them to reach a large audience quickly and cost-effectively.

Moving companies often use targeted advertising to reach potential customers in their local area.

Moving companies may also use email marketing to keep in touch with existing customers and to promote special offers.

Moving companies may also offer incentives to customers who refer their friends and family to the company.

Moving companies may also partner with local businesses to offer discounts or other incentives to customers.

Moving companies may also offer discounts to customers who book their move online.
Let's Get To Work
Get a custom marketing program optimized for Google and built to enhance the marketing of your moving company. 
The time is now. Trust Moving Service Marketing Co. with your digital marketing program. You'll be glad you did!
**This consultation will include a

full

website audit and a detailed overview of your current online visibility.